Celebrity Chinese Astrology and Horoscope
---
The Life Balance Chart of the Celebrity
The Five-Element Life Balance Chart and George W. Bush
George W. Bush was born on 7/6/1946 7:26 A.M. Daylight Saving Time

US President 2001-????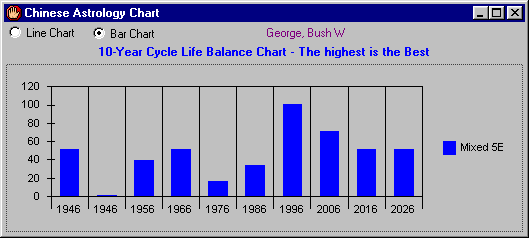 The Life Balance Chart shows George W. Bush 's best cycle is in the 1996-2005 cycle.
He was elected the Governor of Texas in November 1994.
He was re-elected with 68.6 percent of the votes in 1998.
He became the 43rd US President in 2001.
George Bush vs. Saddam Hussein
---


The Charts are provided by Chinese Fortune Angel software
Home of Celebrity Chinese Astrology

Home of Chinese Astrology Online