2008 Chinese Astrology of Britney Spears
---
The Five-Element Life Balance Chart of Britney Spears
After losing the custody of her children in October 2007, Britney Spears has totally lost her mind and doesn't know her way to face her personal difficulties. Many people concern about her future. We are asked to study her Chinese Horoscope. The birth time is provided by her fan.

Birth Date: 12/02/1981 (December. 2, 1981)
Birth Time: 1:30 AM CST
Birth Place: Mahon, MS

Britney's Chinese Astrology Birth Chart

The Five Element Scores
The scores of Water and Wood are too high, so they are unlucky elements.
Fire and Earth can help to balance the Five Elements; they are lucky elements.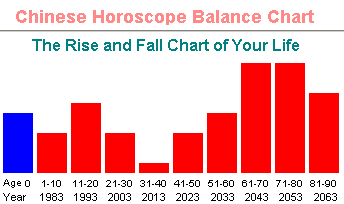 The Life Balance Chart of Britney Spears shows that her bad luck is very low from age 31 to 40.
What's wrong during 2006, 2007 and 2008?
What will happen during the years between 2013 and 2022?
The answer is in the detail Chinese Astrology Birth Chart.
Sean Preston's Chinese Astrology Life Balance Chart
Britney Spears Lost Custody of Two Kids
Find your Five Elements Balance Chart Free


Chinese Fortune Angel tells your lucky elements and lucky animals
Home of Celebrity Chinese Astrology

Home of Chinese Astrology Online