2017 Chinese Animal Zodiac Signs for Year of the Chicken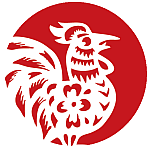 Chinese New Year Day of 2017 Chicken Year is on January 28, 2017. 2017 is the 4714th Chinese Year. According to Chinese Astrology calendar, 2017 is year of the Red Chicken

. The first day of Red Chicken year is on February 3, 2017, not Chinese New Year Day.
The first day of the Chinese astrological year is the first day of the Tiger Month. The Tiger Month begins around February 4, each year. If you were born before February 4, then you should check Your Chinese Zodiac Sign first before reading your 2017 Chinese zodiac forecast.
According to Chinese Five Elements Astrology, Chicken is the Female Metal or Yin Metal. Female Metal is connected to fine metal, gold, precious gems or jewelry. Therefore, Chicken implies luxury, beauty and wealth. We will deal with financial events in the year of the Chicken.
Chicken is the 10th animal in 12 zodiac signs. Chicken is the month of September and connected to the season of autumn, which is the time of harvest. Therefore, Chicken is also connected to the fruit on the tree. That implies things will bear fruits in the end of Chicken year. Also, according to Chinese I-Ching, Yin Metal is connected to lakes, relaxing or joyful time. That means we can have a good time after diligence in the cycle of Chicken.
Male Metal is connected to air, wind or strong current. Female Metal is connected to fog or slow dirty air. We cannot see our future clearly until the fog disappears. That means Chicken blurs our vision and mystifies our decision. We need to wait for the sun appears or fog disappears.
The prediction for 2017 Year of Chicken is based on your birth year, the Chinese zodiac signs. We have different forecasting method for 2017 using your entire Chinese astrology birth chart, which is required your birthday and birth time. You can find the hyperlink in the end of the prediction.
Your Zodiac Sign is determined by your birth year. If you don't know your zodiac sign and were born after February 4, you can find your animal sign by your birth year using the following chart. Or you can provide your birthday to get the 2017 Complete Chinese Horoscope Prediction.
Zodiac Sign vs. Birth Year
Rat
1912,1924,1936,1948,1960,1972,1984,1996,2008
Cow
1913,1925,1937,1949,1961,1973,1985,1997,2009
Tiger
1914,1926,1938,1950,1962,1974,1986,1998,2010
Rabbit
1915,1927,1939,1951,1963,1975,1987,1999,2011
Dragon
1916,1928,1940,1952,1964,1976,1988,2000,2012
Snake
1917,1929,1941,1953,1965,1977,1989,2001,2013
Horse
1918,1930,1942,1954,1966,1978,1990,2002,2014
Sheep
1919,1931,1943,1955,1967,1979,1991,2003,2015
Monkey
1920,1932,1944,1956,1968,1980,1992,2004,2016
Chicken
1921,1933,1945,1957,1969,1981,1993,2005,2017
Dog
1922,1934,1946,1958,1970,1982,1994,2006,2018
Pig
1923,1935,1947,1959,1971,1983,1995,2007,2019

Home of Chinese Astrology Online