Feng Shui Bedroom for Love Relationship
How can Feng Shui improve the love relationship? Feng Shui focuses the study fo the flow of good energy (Chi). The best location to gather good chi for a person is in the bedroom. If you can choose the right love bedroom, then you can replenish the love energy and nourish the love relationship while you are sleeping.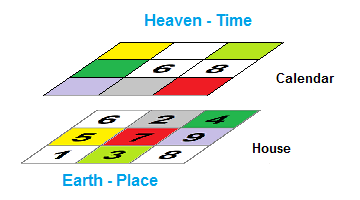 This is a Flying Stars application for Feng Shui marriage, love, and romance energizer. The theory of overlaying Flying Stars states that the marriage and love aspiration of people will be positively energized when their bedrooms have White 8 (Kua #8) and Purple 9 (Kua #8) Flying Stars staying there. In Feng Shui, your house has its Flying Star diagram. The cycle of Flying Star calendar has its Flying Star diagram, too. If we overlay these two diagrams, then we can see any Kua #8 and Kua #9 in the same grid. If you see it, then that bedroom in that location can energize your love attraction during that calendar period.
You might read the love luck sector falls in the southwest direction of the house from other Feng Shui websites. But the advanced Purple White Flying Stars tells us the good chi flows to different locations over time. To use the following application, you need to select a particular year, then it will tell you
What types of houses have a love bedroom in the year you selected
Which bedroom in the house is the love bedroom
Which month activate extraordinary romantic luck
Love Room of White 8 and Purple 9 in the House
Check Your House is the Eastern Four or Western Four House
---