Monthly Flying Stars Nine-Palace Diagrams
The Stem-Branch Calendar of Chinese astrology applies on the Yearly Cycle and Monthly Cycle. Each Year and each month is named by a Stem-Branch, which is a symnbol of color zodiac. Each Year and each month is also connected to a Flying Stars Nine-Palace Diagram, which is identified by the Kua Number. Feng Shui people use this Flying Star calendar to plan the special events and expect an auspicious ending.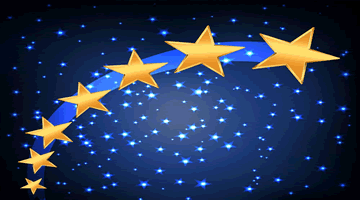 The monthly Purple White Flying Star calendar is in a reverse chronological order. That means the sequence order is from Purple 9, White 8, Red 7, White 6, Yellow 5, Green 4, Green 3, Black 2, and White 1. Chinese Astrology Stem-Branch calendar uses 12 animal signs as the 12 Bramches. 12 zodiacs are Rat, Cow, Tiger, Rabbit, Dragon, Horse, Sheep, Monkey, Chicken, Dog, and Pig. The first month of the Chinese astrology year is the Tiger month, which is the February. The Tiger month of the Rat year is equivalent to the White 8 of Flying Star. The Rabbit month of the Rat year is Red 7. The Dragon month of the Rat year is White 6... The Cow month of the Pig year (Janaury of the Pog year) is Purple 9.
You can query monthly Purple White Flying Star diagrams using the following tool. basically, you just need to select a Feng Shui Year. This application will give you
Current Year Flying Star Diagram
12 Monthly Flying Star Diagrams
The Beginning Date and Time of each Feng Shui Month
List Monthly Flying Stars Nine-Palace Diagrams
Check Yearly Flying Stars, Nine-Palace Digram, and Bedrooms
---