Feng Shui Study Room - Wisdom Energizer
Every family hopes to have their children to go colleges and accept higher education. Besides sending kids to a good school for better academic training, parents would like to prepare a good study environment for their kids at home. Chinse Feng Shui has good advice for people to choose a study room to energize their wisdom.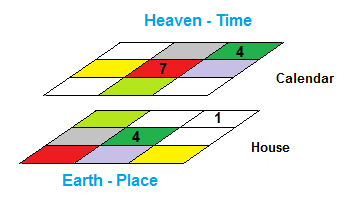 To choose an intelligent room for studying is from the theory of overlaying Flying Stars. When the White 1 and Green 4 Flying Stars gather in the same location, then the airflow of the energy could energize people's creativity, imagination, enthusiasm, and vitality. The room at that location can be a good study room for students, Internet bloggers, designers, planners, Youtubers, Writes, people preparing an examination, and people work at home.
The Green 4, a.k.a the Intelligent Star, is the Kua Number #4 in the of Flying Star Magic Square. The White 1 is the Kua Number #1 in the of Flying Star Magic Square. Every year has a Flying Star diagram. Every house has its Flying Star diagram. The house has an Intelligent room if these two Flying Star diagrams overlaying each other and we find that Kua #1 and Kua #4 in the same grid.
The following form helps you to find the Study, Wisdom, and Intelligent room in the year you selected. This application will tell you
What types of houses have a good study room in the selected year
Which room in the house is the study room
Which months gather extraordinary intelligent energy
Study Room of White 1 and Green 4 in the House
If you cannot find your house on the list for the year you selected. You can simply choose the study room at the location of the Intelligent Star, which is the Kua Number #4. For example, the Study Room of 2020 is at the corner of the southwest.
Check Yearly Flying Stars, Magic Square Digram, and Bedrooms
---